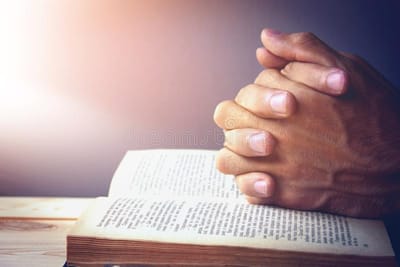 IF YOU DIED TODAY, ARE YOU SURE YOU WOULD GO TO HEAVEN?

Dear Friend,
This is a question that everyone must answer at some point in his or her life. Everyone must face the reality of death because we all have an appointment with death. The Bible says "... it is appointed unto men once to die, but after this the judgement:" (Hebrews 9:27). If you would like to be sure that you would go to heaven when you die, then you must understand a few things that the Bible says about getting there.
I. We can know that heaven is our home.
1 John 5:13 - "These things have I written unto you that believe on the name of the Son of God; THAT YE MAY KNOW THAT YE HAVE ETERNAL LIFE, and that ye may believe on the name of the Son of God."
II. We must know that we are all sinners.
Romans 3:10 - "As it is written, There is none righteous, no, not one:"
Romans 3:23 - "For all have sinned, and come short of the glory of God;"
III. We must know that God has placed a price on our sin - Death in Hell
Romans 6:23a - "For the wages of sin is death;..."
Romans 5:12 - "Wherefore, as by one man sin entered into the world, and death by sin; and so death passed upon all men, for that all have sinned:"
Revelation 20:14-15 - "And death and hell were cast into the lake of fire. This is the second death. And whosoever was not found written in the book of life was cast into the lake of fire:"
IV. We must know that God loved us so much that He paid that price for us and offers salvation as a FREE GIFT.
Romans 5:8 - "But God commendeth His love toward us, in that, while we were yet sinners, Christ died for us."
Romans 6:23 - "For the wages of sin is death; but the GIFT OF GOD is eternal life through Jesus Christ our Lord."
V. We must know how to accept that gift the Bible way.
Romans.10:9,10,13- "That if thou shalt confess with thy mouth the Lord Jesus, and shalt believe in thine heart that God hath raised Him from the dead, thou shalt be saved. For with the heart man believeth unto righteousness; and with the mouth confession is made unto salvation... For whosoever shall call upon the name of the Lord shall be saved."
Friend,
You can know right now that if you died you would spend eternity in heaven. But you must act on what God has shown you today. You must receive Jesus Christ as your personal Savior. If you will turn to God and ask Him to save you now, then pray this prayer in faith and trust Him to save you from your sins.
"Dear God, I recognize that I am a sinner, and that because of my sin I am separated from you and I am destined for Hell. I recognize that in my sin, I cannot save myself. I believe that you, Jesus, came to Earth to die on the cross for my sins and that you rose the third day proving that you have the victory over death and sin. Right now, I turn to you alone to be my Savior. I ask you to save me from the penalty of my sin, and I trust you to provide eternal life to me. I put my faith in you, Jesus. Thank you for saving me.— Amen"
If you have received Jesus Christ as your Savior, then let us know, that we may rejoice with you and get you started on the road to a fulfilling life with Christ.